Erste Asset Management has been engaged in Spain since 2008
Strong expertise in actively managed fixed income funds
High demand for emerging markets corporates and ESG solutions
Austrian mutual fund company Erste Asset Management (Erste AM) is celebrating its tenth anniversary servicing together with its local partner Selinca A.V. institutional clients in Spain. "Since 2008, we have established ourselves as a reliable partner for Spanish institutional clients and have been able to successfully build up the Spanish business", explains Albert Stöger, Head of International Institutional Business. "Our solutions in emerging markets fixed income are an attractive addition to the asset allocation of institutional clients and demand for responsible investing is increasing in Spain."
High demand for emerging markets fixed income and ESG solutions
Our Institutional clients in Spain are particularly interested in our actively managed emerging market corporates solutions and we are witnessing increasing demand in Erste AM's entire emerging markets fixed income offering. This shows the trust that Spanish institutional clients put in our emerging markets expertise.
The share of the total assets of Spanish clients invested in ESG solutions is also increasing. "We are a pioneer in the field of responsible investing with more than 15 years of experience and a full range of ESG solutions", stresses Stöger. With one of the biggest teams of sustainability experts in Europe, Erste AM has been able to improve financial performance while achieving a positive impact.
Expansion of activities in Spain
Looking to the future, Erste AM is continuously expanding the range of its investment solutions available to Spanish clients. To be able to offer the entire spectrum, Erste AM has now registered further emerging markets and ESG funds with the CNMV in Spain. "Expanding our activities in Spain affirms our strategic decision and is a strong signal for this important market," says Heinz Bednar, Chief Executive Officer (CEO) of the Austrian asset manager. "With our expertise in emerging market fixed income and our pioneering role in the area of ​​ESG, we offer institutional investors in Spain an attractive portfolio of tailor-made solutions." All funds are tradable on Allfunds platform.
ERSTE AM FUNDS REGISTERED IN SPAIN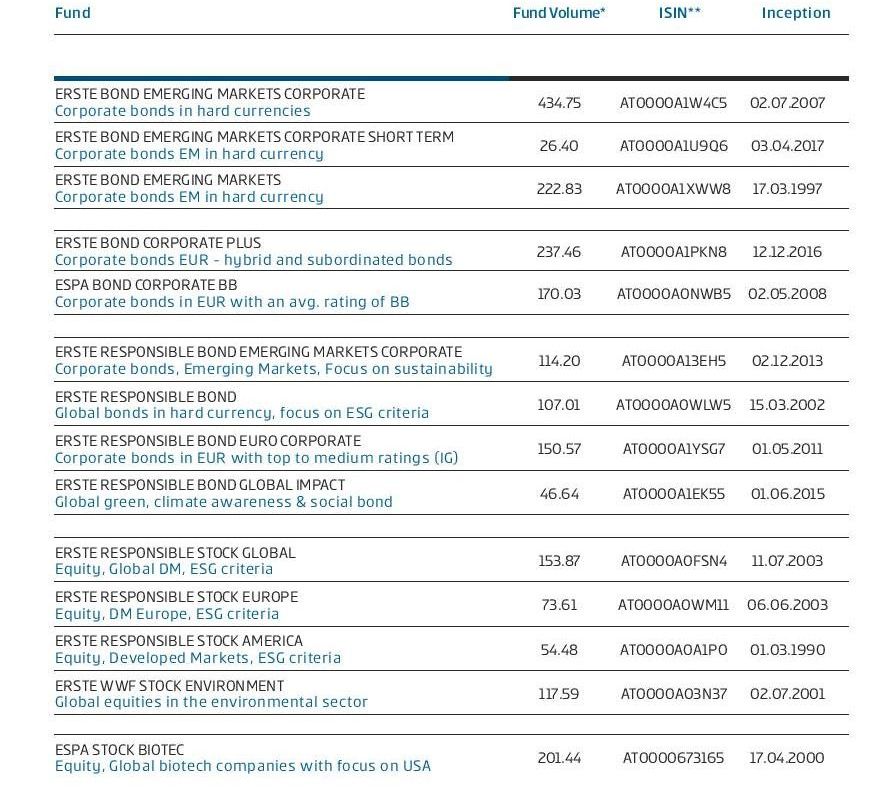 For further queries please contact:

Erste Asset Management, Communications & Digital Marketing
Paul Severin
Tel. +43 (0)50 100 19982
E-Mail: paul.severin@erste-am.com
Erste Asset Management GmbH
Am Belvedere 1, A-1100 Wien
www.erste-am.com
Sitz Wien, FN 102018b,
Handelsgericht Wien, DVR 0468703